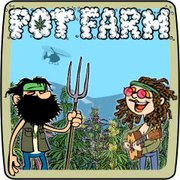 Welcome to Pot Farm!
A friendly woodland growing game with some chilled out camping on the side
Be part of the other "green" movement! With 1,000,000 likes and counting, Pot Farm is the number one underground farming game on Facebook!
Grow all your favorite cash crops like Grandaddy Purple, Sour Diesel and Northern Lights! Or satisfy your munchies with Pizza Flowers, Jellybean Bushes, and Bacon Trees!
Categories